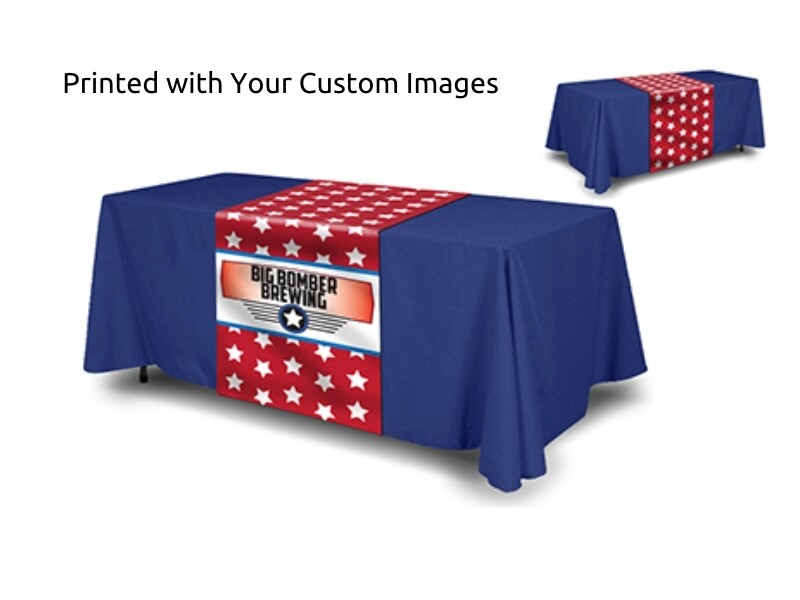 Fabric Table Runner & Throw Combo
00006
Product Details
Save Even More when you purchase a Custom Printed Fabric Table Runner & Throw Combo.
At Spokane Signs & Banners, it is our goal to help you save time with a quality printed tradeshow Table Runner & Throw Combo kit. These come with a custom printed table runner with your artwork or hire us to design your table runner. Choose from Six Standard Table Throws to set off your custom table runner for that professional look.


About our Table Runner & Throw Combo
This combo offers a complete package. Create a custom full-color dye sublimation table runner available in two standard sizes, and then pair it with a stock pre-printed solid color table throw. The table runner is printed on durable and washable 7 oz. polyester fabric. Make a statement with this colorful duo at any event.
Material:
Printed Table Runner is 7 oz. Polyester Fabric, Table Throw is 8.8 oz. Polyester Fabric
Colors:
White

Black

Red

Yellow

Blue

Green


Standard Production
Spokane Signs & Banners creates each Table Runner with care and our typical production time on this product is our standard 5- 7 business days. We know how important it is for you to get your project completed quickly and efficiently. This is why we make it our goal to get every order out the door quickly after your final approval to proceed with the printing after you verify everything looks just perfect!
Free Shipping
No matter if you are in Spokane, Post Falls, Seattle, New York City, Miami, Los Angeles, Honolulu or Anchorage Alaska, we now offer FREE Shipping directly to your door!
Once Covid-19 hit, at Spokane Signs we changed our game plan of how we do business and we know how important safety is to you and your family, this is why we now offer Free Shipping, delivered directly to your door!

Save this product for later